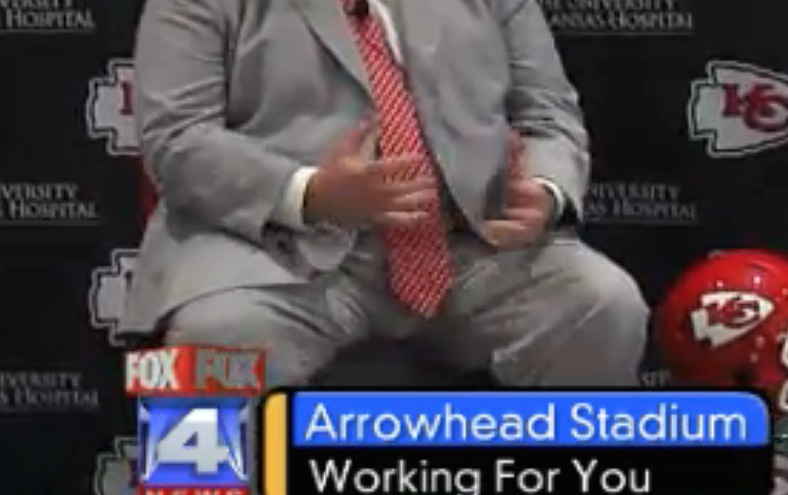 Andy Reid, oh ye ol' football meathead, is just fine with Jamaal Charles getting popped by teammate Derrick Johnson during training camp. It's good for the soul, good for the team. Injuries and concussions, however, are not, and yet Reid's battle zone training camps rage on, even in 2014, when 29 concussions have been reported through the first three weeks of NFL camps.
Here's Reid on Charles getting drilled [via Pro Football Talk, USA Today]:
"He's one of our leaders on our team," Reid said of the 31-year-old Johnson. "We're in the dog days. He's not the youngest guy. For him to strut around – I'm loving that now. I'm OK with that. He's trying to get everybody going, both sides. A little tattoo like that right there – that gets everybody going. There's nothing wrong with that. It's going to happen."
"They've got this Texas thing," Reid said. "You've got to look at the positive: Jamaal got up and his head was good and everything else so I'm good with it. That is going to happen out here. That is going to happen, I got it. You saw one with the offensive line, one of the offensive lineman hit a linebacker and then hit him again. You've got to be smart. It's part of the game and things are going to happen.

"Well, I mean, you see a lot of those in football. You just keep going. They're competing. It's a Texas thing."
"The last 10 days, we were tackling to the ground. We did it every day," Reid said. "This week, now we're working long-drive periods where it's more 'thud.' But those backs are still getting banged around when they come through there. They've got to expect to get a shoulder on them. That's how it rolls."
All the more reason to appreciate Chip Kelly and his aversion to his multi-millionaires intentionally doing their Texas thing to each other during meaningless scrimmages.
3 Comments