*Crossing Broad's Flyers coverage is brought to you by DraftKings Sportsbook. Sign up today and use promo code CROSSINGBROAD to get your deposit matched up to $500 . Terms and conditions apply. 21+ Gambling problem? Call 1-800-GAMBLER.*
The winning streak is over, but the point streak lives on.
Go to overtime or a shootout in six-out-of-seven games and, well, that's going to happen.
(That's the first time that's ever happened for the Flyers by the way. According to the NHL stats and information department, since the advent of overtime in 1983, the Flyers have never had a seven-game stretch where six games went past regulation. Pretty remarkable when you think about it.)
The Flyers lost in the shootout to the Washington Capitals 2-1, snapping a four-game winning streak, but they now have points in seven straight games. The lone problem with that is the Capitals have points in 13 straight games and have now stretched their lead over the Flyers to nine points in the Metropolitan Division.
And although the Flyers likely won't close that gap in the remaining 64 games this season, it's nice to be talking about them in any capacity about the top of the division standings and not the bottom.
After all, the Flyers' past five games have come against five really good teams. The Carolina Hurricanes, who were in the Eastern Conference Final a season ago; the Montreal Canadiens, who have the same record as the Flyers and currently sit in second place in the Atlantic Division; the Toronto Maple Leafs, who have a ton of skill and talent, even if they are under-performing at the moment, and were a popular pick to compete this season for the Stanley Cup, the Boston Bruins, who may well be the best team in hockey, and the Capitals, who currently have the best record in the sport.
And that gauntlet, playing those five teams in eight games, resulted in the Flyers taking nine out of a possible 10 points: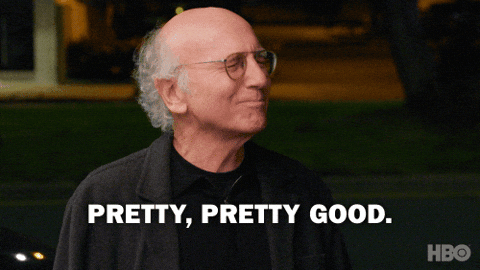 There was a reason to think the Flyers would drop every one of those games, but none more so than the Capitals, who are simply dominating their opponents, especially on the road, where they entered the game against the Flyers an amazing 8-1-1.
And in the first period, it looked like it was going to be more of the same, as the Caps absolutely dominated the period, outshooting the Flyers 16-5.
But, despite all that, they only led the game 1-0. And, it would be the only goal they would score until the shootout. That's because one Flyer and one Flyer only decided to show up for all 60 minutes of this game:
Carter Hart
The Flyers young and impressive netminder made a season-high 35 saves against Washington. In all honesty, it was his best game of the season.
Not just because of the volume of shots, but the number of big saves he had to make to keep the Flyers in the contest.
Just look where all of the shots that got through to Hart came from:
WSH 1+ at PHI 1

Carter Hart dragging the Flyers to a well-deserved tie point.

All game charts: https://t.co/WUh9EZEo4n pic.twitter.com/WDAfORGKrB

— Micah Blake McCurdy (@IneffectiveMath) November 14, 2019
That's a real damnation of the Flyers' defense, which we'll get to shortly, but the fact of the matter is Hart simply earned his team a point in this game all by his lonesome.
It was all Hart in the first. He allowed the one goal but he made at least three 10-bell saves that could have put the game out of reach for the Flyers rather quickly.
Hart with a big save on Leipsic. pic.twitter.com/9bvpIyAdfr

— Broad Street Hockey (@BroadStHockey) November 14, 2019
Then there was the third period, where the Capitals turned up the pressure, but Hart was cool as a cucumber:
Carter Hart is back, ladies and gents! https://t.co/JssFX4DNwB

— Lace Em Up (@LaceEmPodcast) November 14, 2019
And quick as a fox:
Behold, Carter Hart with highway thievery on Tom Wilson. pic.twitter.com/vQFqujRb7O

— Silvertips Alumni (@TipsAlumni) November 14, 2019
The only chink in the armor for Hart came in the shootout, where he is normally excellent.
However, the Capitals have some ridiculously good shootout personnel, and both T.J. Oshie and Evgeny Kuznetsov had the same strategy – they came at Hart not with speed, but rather really slowly.
Oshie lulled him to sleep before snapping a quick shot through the five hole before Hart could react, while Kuznetsov patiently waited for Hart to make the first move, dipping his shoulder, before beating him top shelf.
And while Hart will certainly work on those things moving forward, they shouldn't diminish how well he's played of late. He has a 1.48 goals against average and a .935 save percentage in his last five games.
With the Flyers playing so many close games (they've gone to a shootout six times in 18 games this year as opposed to twice in 82 games last year), Hart is going to be the difference maker between success and failure for this team, and right now, he's bringing success in large amounts.
Everyone not named Carter Hart
Here's the rest of the breakdown for the Flyers against Washington – they played very good hockey for about 35 minutes. The entire second period, about half the third period and the entirety of overtime.
The other 30 minutes were not very good, and it shows just how much of a disparity still exists in gameplay between the division's best team and the Flyers.
Alain Vigneault knew it after the first period yesterday and started playing lineup roulette by juggling lines and defensive pairs.
The only groups that stayed together – Oskar Lindblom/Sean Couturier/Travis Konecny up front, and Ivan Provorov/Matt Niskanen on the blue line.
The rest were shuffled by Vigneault and multiple times throughout the second period and into the start of the third period.
Vigneault said afterwards that he was looking for nine consistent forwards as he shortened the bench.
It was tough to get to nine.
The Couturier line is immune to poor play right now. They are going so well, that even in a bad game by the team, they still are creating opportunities. Both Konecny and Couturier had chances to win the game for the Flyers and hit posts.
Claude Giroux and Jake Voracek were going well, and Vigneault decided to reunite them and old friend Michael Raffl, who once scored 20 goals in a season playing with that duo.
The result was this:
Claude Giroux slams home Voracek's feed on the power play!#FlyOrDie pic.twitter.com/8SS1liKVUn

— Hockey Daily 365 (@HockeyDaily365) November 14, 2019
Giroux also scored the only shootout goal for the Flyers. I'd forget about it later if I didn't include it here, but I thought it was worth seeing because it was so damn pretty:
Claude Giroux: The most under appreciated player in Philadelphia sports pic.twitter.com/n9efcO5pSe

— Connor Anderson (@TweetsOfConnor) November 14, 2019
OK, so that made a second line, as for a third…
Well, Kevin Hayes was going to center it. Not that he's been great or anything, but, he at least plays responsibly in his own end.
Eventually Vigneault settled for James van Riemsdyk and Tyler Pitlick as his wingers, but he tried a bunch of combinations there. Andy Andreoff was out there with Hayes. So was Carsen Twarynski. Even Joel Farabee had a shift with him.
Nothing really seemed to work.
The Flyers continue to struggle to find much in the way of offensive success beyond the Couturier line. It wouldn't surprise me to see Giroux and Voracek back together a little longer. I know the team really doesn't want to take Farabee away from playing with Giroux, but they all can't play together because Voracek, despite being a left shot, doesn't play left wing, and Farabee is better on the right as well.
But, the Flyers need to get a second line rolling and Giroux and Voracek have been the most consistent secondary scorers behind the top line, so keeping them together makes some sense.
But Vigneault isn't too pleased with the bottom of the roster right now:
"Sometimes you just have to shuffle the deck a little bit to see what can come out," Vigneault said. "We got one playing [the right] way and I'm working on getting the other lines to play that way too."
Hayes hasn't scored in nine games. He hasn't even registered a point in the last eight games. Meanwhile, van Riemsdyk has just one goal in his last nine games.
Van Riemsdyk is on pace for 18 goals, 23 assists and 41 points.
Hayes is on pace for 18 goals, 14 assists and 32 points.
Sorry, that's not $14.14 million worth of production right now.
Vigneault also mentioned that Farabee, who burst onto the scene after his call up, took a step back in this game, thus his demotion to the bench for much of the third period.
"Joel was fighting it a little bit tonight and that's a pretty big team and pretty good team with a lot of experience so sometimes in games you got to make some decisions," Vigneault said. "He'll be right back at it next game but for tonight just the way I thought we should go."
On the defensive side, there wasn't a lot of great play in their own end with Washington really getting a strong push and a boatload of chances in front of Hart.
With the exception of the top pair, the Flyers next four defensemen weren't very good. It was probably Phil Myers' worst game since being recalled and Travis Sanheim (four giveaways) and Justin Braun were both below average defensively.
The Flyers are skipping practice Thursday because they have back-to-back games on Friday in Ottawa and home Sunday against the New York Islanders, still, there is a mandatory practice for the following players:
Brian Elliott – makes sense as he hasn't played and likely will start Saturday against New York.
Robert Hagg and Chris Stewart – also makes sense because they have been the healthy scratches. But the rest are what's interesting.
Andreoff, Twarynski, Farabee, and Myers – One could argue that it was because they didn't get as much time as usual against the Caps and that they could use a decent skate before getting back out there. Maybe that's the case for Andreoff and Twarynski. But Farabee still played 11-plus minutes. The coach talked about him fighting it a bit. They definitely want to work with him. And Myers skated nearly 20 minutes – but really didn't have a good game, so there's a good bet they want to go over some things with him too.
Things are going well for the Flyers for sure. Don't take anything away from them with this good start. But this is what makes Vigneault and his staff so good; they recognize there are problems that need to be addressed immediately and they do it.
This will only benefit these young players long-term and it should keep the Flyers competitive all season.