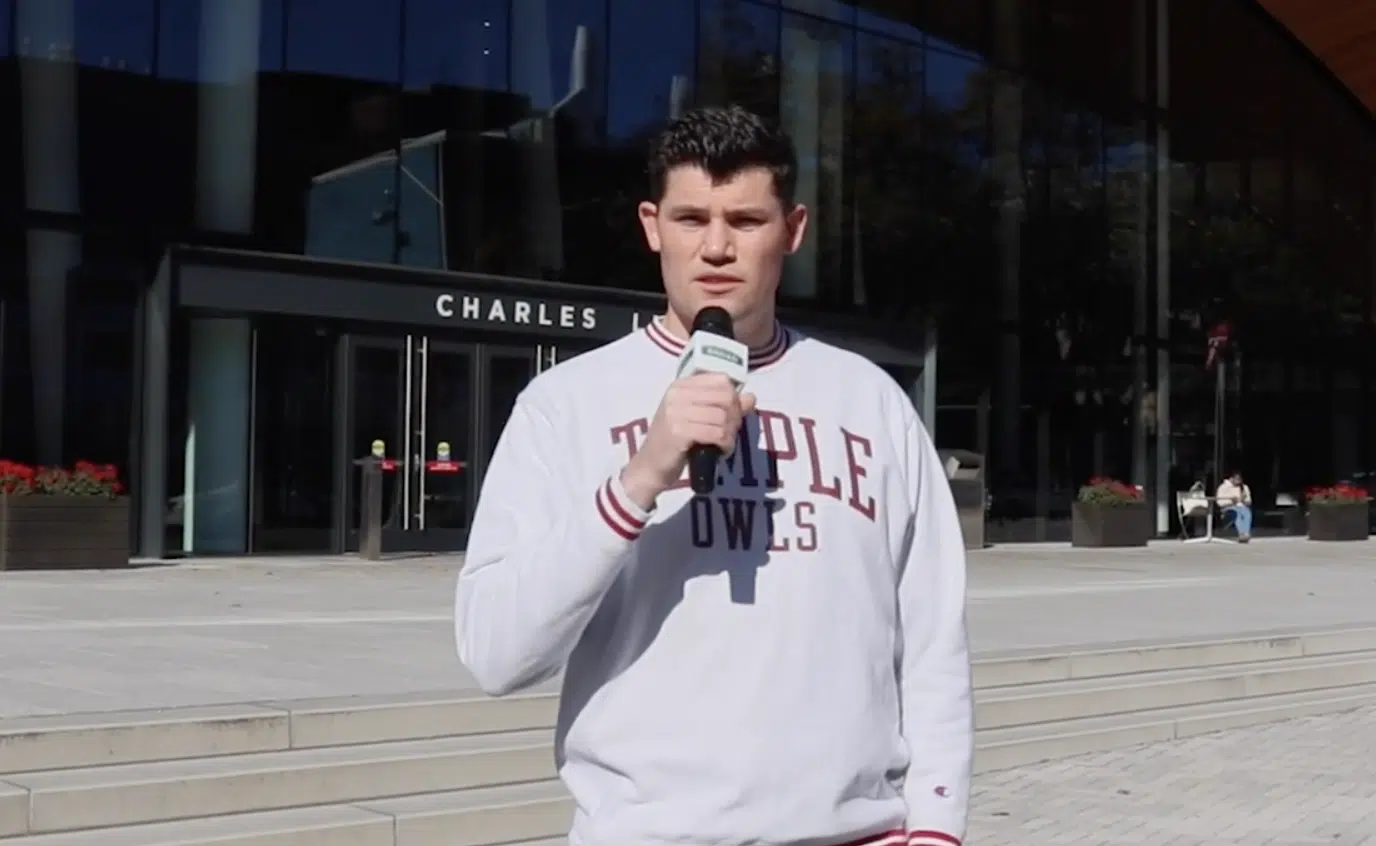 COLLEGE FOOTBALL
I'm Applying to Be Temple Basketball's Next Chief of Staff
Don't know if you've heard, but Temple basketball is back! They just hired one of most highly sought after up-and-coming coaches in the nation in Adam Fisher. Guy recruits like the Army in a redneck town. Hysier Miller is out of the portal and back on North Broad. There are rumors former 4-star Penn State player, Jameel Brown, is visiting campus. Things are looking up and you could argue a job on Temple's staff is the most coveted one in the country right now. So when I saw Temple is looking for a Chief of Staff I knew I was the perfect man for the job! Look at this job description and tell me you can't picture me as Coach Fisher's right hand man.
Description:
Under the direction of the Head Basketball Coach, the Chief of Staff will provide high-level administrative support and advice to the Head Men's Basketball Coach. Primary duties will consist of communicating the team's strategic initiatives and objectives, oversight of general Men's Basketball office operations, and liaison with athletic department and University administration. Chief of Staff will assure the smooth and efficient operations of daily office activities, providing direction and supervision to staff as necessary. Performs other duties as assigned by the Head Men's Basketball Coach.
I am operations. Two creams and a sugar coach? I'll have your coffee on your desk in the morning so fast it'll make your head spin. Smooth and efficient are my middle and Confirmation names. You need some advice? Here's the best advice you'll get. Do exactly the opposite of whatever Aaron McKie did. Call one offensive set a game, beat Villanova ever so often, make the NCAA Tournament, and buy a round for the students at Maxi's every now and again. We're not asking for much, but if you do these things you'll be loved here.
Required Education and Experience:
Bachelor's degree. Two or more years related experience. Previous experience with a Division 1-A Men's Basketball program preferred. Knowledge of NCAA and Conference Regulations. An equivalent combination of education and experience may be considered.

Preferred:

Master's degree. Demonstrated experience in the management of the day to day operation of a Men's Basketball program.
I've got a lot of experience with a D1 Men's Basketball program. Eight years in fact. I watch every Temple game. I've seen it all. Major triumphs and major heartbreaks are a part of my DNA. Now do I know much about NCAA and conference regulations? Nope. But I assume you're asking so that we can find loopholes in the system and skirt those regulations. Very Belichickian of you coach. I love it! I'll drop bags wherever. You give me a location and time to show up to a 5-Star recruit's house and I'll get them the duffel bag. You need me to fly to Wichita State and film their practice? I'm on the next flight to wherever the hell that school is.
Also, I know you prefer a master's degree. Listen here. The only goal I've ever stuck to in my life was never going back to school. Master's degrees are for people who fucked up on their original one. I learn just as much interviewing mongrels in Jetro as I would sitting in class. Don't punish me because the Tyler School of Art kids who didn't become Picasso had to go back to school to get a real job. Also, if you ask me the word "Masters" means you're finished. The job is never finished, Skip. I have an insatiable desire to continue to learn. I'm a jack of all trades, and a master of none.
Required Skills and Abilities:
*Ability to analyze and interpret policy and procedural guidelines to resolve problems and questions specific to a collegiate athletic team.
Skip, let me tell you about my ability to analyze and resolve problems specific to a collegiate athletic team. I played D3 ball. Shot 100% from the field actually (not to brag). But due to my proficiency for partying my freshman year I got a 1.6 my first semester and was benched for the rest of the year (not that I was playing much anyway). So what did I do? I quit. I didn't want to continue to bring the team GPA down plus I was over the game of basketball. Credit to me. Threat neutralized.
*Demonstrated competence with film editing.
I edited this bad boy all by myself and Temple won. Just think of that:
*Strong organizational skills, interpersonal skills, and a commitment to customer service.
Five years as a cashier at Staples. Slinging hooch at bars around Philly for another eight. You could say I'm OVERQUALIFIED for this role.
*Demonstrated knowledge of MS Office Suite to include Word and Excel.
This is almost insulting you'd even ask coach. Everyone born post-1990 is proficient in Microsoft Word & Excel. What're you gonna ask me next? If I know how to send an electronic email on the World Wide Web?
*Strong written and verbal communication skills along with the ability to relate well with a diverse group of individuals including students, coaches, staff and managers.
I'll be honest with you, Skip, this might be where you got me. I have the grammar chops of an ape. There's a good chance I fuck up 'to' vs 'too' and the occasional 'there', 'their', and 'they're'. (Kinkead: or put the punctuation outside the quotes). If you can look past this one thing, I promise you won't regret it.
*Must have a valid driver's license.
Whip game is proper. Wanna see me do donuts? (I'll be honest. I don't have car insurance. Will you guys pay for that? I'm also going to have to ask my girlfriend if I can use her car most days. You know what? Maybe we can work out a car in the deal. MJ got one when he signed with Nike. You're a Jordan brand school. Just think of all the money you're saving letting Khalif Battle walk. Yea. We'll work something out.)
*Ability to work flexible hours, including evenings and weekends.
I'll be honest. I've got a lot of bachelor parties and weddings coming up. I'm also going to need every Sunday off during the Eagles season. I saw you tweet a Nick Sirianni gif today so I'm sure you'll understand.
*Strong integrity and character who shares a commitment for knowing and complying with NCAA, Conference and University rules.
Yea. Definitely. Whatever you say. ;).
Well I can't wait to get started! I'm excited to bring Temple back to the promised land together. You'll be like Nick Saban and I'll be whatever offensive coordinator that needs reform. I'll also take payment in the form of Diamond Dollars. J&H fourth meal here I come!